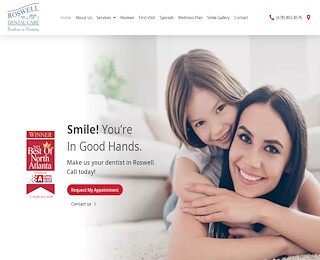 At Roswell Dental Care, we continue meeting the needs of the Roswell community with affordable, quality dental care designed to fit every budget. If you're currently thinking about the benefits of teeth whitening in Roswell, GA and are wondering which procedure offers the best result, we would love to meet with you, answer your questions, and help you choose a pro-grade teeth whitening treatment that's right for you.
GLO Science & Opalescence
We are pleased to offer patients two of the most popular methods of achieving a beautiful white smile: GLO Science and Opalescence Whitening. Both treatments provide long-lasting, professional results at a fraction of the cost of other cosmetic procedures. We know that whitening is personal and that no two patients have the same objectives or needs, which is why we recommend scheduling a consultation appointment to learn more about the latest treatments available in whitening.
Benefits of GLO Science Whitening
If you choose the GLO system, we'll send you home with the most convenient teeth whitening in Roswell, GA. Your kit includes the GLO technology mouthpiece and storage case, GLO control, lanyard, GLO applications, lip treatment, universal power cord, adapter, and travel case. The exclusive combination of LED light and warming GLO heat works to accelerate the safe and reliable hydrogen peroxide formula for the fastest, easiest way to achieve your perfect shade of white.
Benefits of Opalescence Whitening
We love recommending Opalescence to patients at Roswell Dental Care as an option to fit just about any lifestyle. Ask our staff about Opalescence teeth whitening systems for at-home treatment, Opalescence Go for on-the-go whitening, Opalescence Boost for in-office treatment, and Opalescence whitening toothpaste for aftercare. There's simply no other teeth whitening product on the market today that can match your individual needs in the same way for such a low cost.
Do I Need Professional Whitening?
If you're concerned about safety, sensitivity, and long-lasting results, the answer is a resounding yes. Many of the patients we see at Roswell Dental Care share their stories with our staff about trying store-bought gels and pastes only to find them a huge disappointment – and a waste of money. OTC whitening products can damage teeth, damaging the protective enamel shell on the outside of teeth, leaving teeth exposed to staining, bacteria, and extreme sensitivity to heat and cold. Avoiding inferior products and opting for a professional-grade whitener remains your best solution for experiencing beautiful white teeth and a healthy smile.
Are There Benefits to Teeth Whitening in Roswell, GA?
Dental care specialists report numerous perks and benefits to investing in beautiful, white teeth. Top on the list:
Boosted self-confidence for everyday activities
Ideal for special occasions
Enhances personal attractiveness
A more beautiful smile for social situations
If you're looking for the most affordable way to improve your smile without permanent results, whitening is the way to go – and today, there are many different options available, making it easy to get the kind of results you deserve in our office, at home, or on-the-go.
Teeth Whitening Roswell GA
Roswell Dental Care
(770) 998-6736
1570 Old Alabama Rd #102, Roswell, GA 30076
View Larger Map